Write an email from your CRM
You can now write an email from the Corymbus CRM to one or more of your contacts, without going through your email software:
go to the contact card
click on the icon ✉️ next to his email address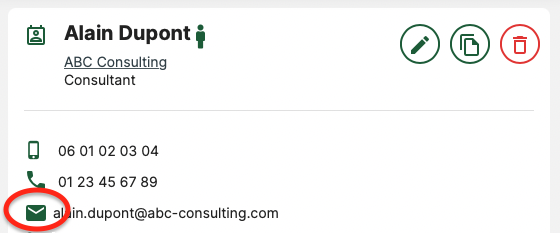 add other recipients if necessary: Corymbus allows you to select them as soon as you type a few letters, and you can also enter a full email address if no contact exists in the database
drag and drop addresses between "To", "Cc", "Bcc" fields if necessary
write your email. The "Templates" menu allows you to save and reuse different templates, as well as signatures.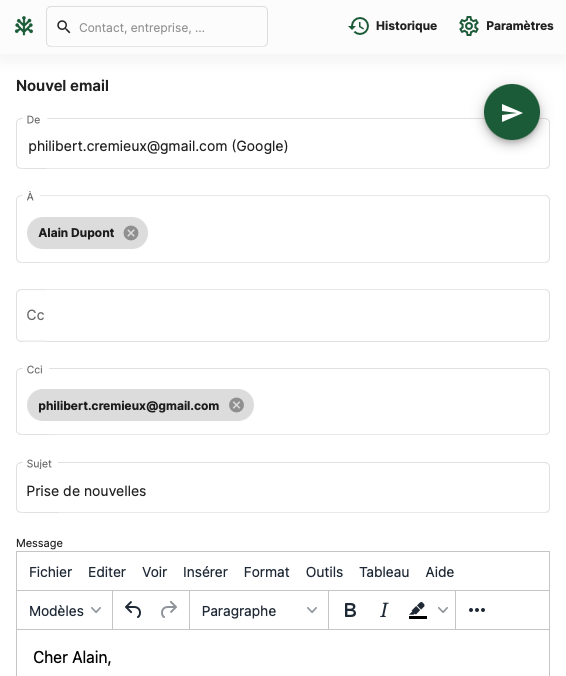 If you have activated automatic email archiving, the emails you send or receive will be automatically logged in Corymbus as email "activities". On the record for this "activity", use the "Reply" or "Reply to all" buttons to reply to this email, just as you would in your email software. You'll then return to the email editing page described above.
Setting
To use this feature, make sure in your user settings that you have:
set up an account for sending email (See tutorial "Email account for campaigns")
set options:

Using this internal email tool (otherwise, clicking on the icon ✉️ will cause your default email software to open)
Bcc of your email address, if you want any email sent to also end up in your inbox
Bcc of the archiving address , if you want any email sent to be saved as a Corymbus activity, and linked to the recipient contacts, their company, and if necessary to the corresponding opportunity.
Default signature (you must first create an email template corresponding to this signature, from the email compose screen above, and then save it as a template, calling it for example "Default signature").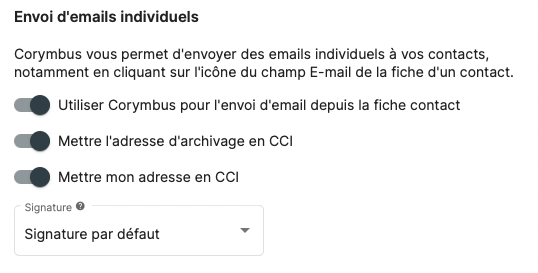 Once this setting is done, you can write an email from the Corymbus CRM in one click, and without having to switch to another tool such as Outlook or Gmail.
In order to answer to emails, you should also activate the automatic email archiving.