Offering an unsubscribe link to the recipient of a campaign is very important: if they deem your email junk, it is much better for your email deliverability that they unsubscribe than declare your email spam. And the more easily the unsubscribe link is visible and accessible, the more spam reporting can be avoided.
To insert an unsubscribe link, use the unsubscribeLink macro from the campaign HTML editor. It can be inserted wherever you want in the body of your email campaign to offer an unsubscribe link to the user, for example at the beginning and end of your email.

If a contact in your CRM clicks on this link, they will be considered unsubscribed, which will automatically exclude them from all future campaigns, even if they are part of the target group(s).
The tracking information keeps track of this operation, and is visible either from the campaign that caused the unsubscribe, or from the contact card that unsubscribed:

It can happen that a contact clicks on this link by mistake, and then contacts you to be re-registered. You can then re-register it using the button provided for this purpose on the contact card: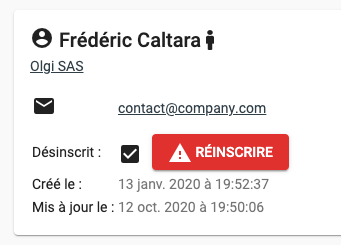 For reasons of traceability and good email marketing practices, it is strongly recommended to keep a written record of the re-registration request. This is why Corymbus systematically creates an activity related to the re-registered contact, to record the operation. You can edit its description to include more details.