Programmable Email Campaigns for Small Businesses
Corymbus' email campaign management brings new possibilities and better deliverability (i.e. the fact that your emails reach your contacts well and are not considered unwanted).
Scheduled campaigns
You can now schedule the sending to a given date and time, rather than having to be in front of your computer to press the send button: indicate the desired time in the campaign, and save.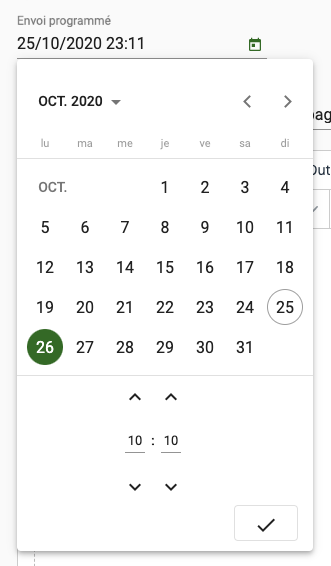 When all your tests are complete, validate the sending of the campaign on this date with the schedule button. You will then not be able to modify it afterwards, but in case of false manipulation you can stop the campaign so that it is not sent. You can also duplicate it to create a new one, and modify this copy as you wish.

Correct wrong addresses
Some email addresses may be incorrect in your contact database. When sending a campaign, this will cause errors that it is important to correct to preserve your deliverability. A "Shipments" section in the view of a campaign allows you to check the smooth running of shipments, and to detect any errors. It is recommended to check this section during and after a shipment, in order to correct anomalies as quickly as possible.
Customize the sender address
This applies to the Enterprise edition of the Corymbus CRM. If you are multiple users in your company sending campaigns to your contacts, you can group them into a single campaign, and customize the sender's name and email address, based on the assignment of contacts to users. For example, contacts assigned to a salesperson will receive an email from them, while those assigned to you will receive it from you. And if a contact responds to the campaign, their email will be sent to the sales representative or to you as the case may be.
To make this customization, use the {{contact.owner_email}} and {{contact.owner_name}} macros in the Sender Email and